So now you've taken the quiz to suss out your style (and if you haven't done it, hotfoot it over there now! I'll wait.), I'm going to drill down into each of the styles. Gorgeous real-life inspirational examples, quick fixes you can do to your own place, and favourite pieces for every look etc. Today it's boho, baby.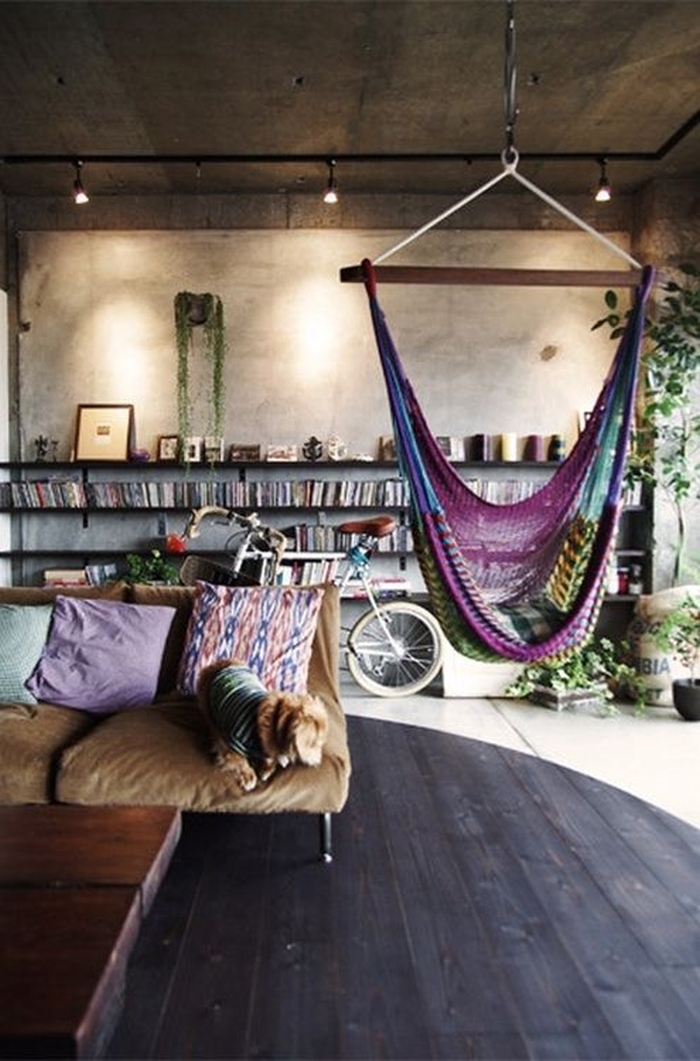 THE VIBE
I love this style of decorating since there are no rules. Instead, boho is all about experimenting, expressing yourself and being as creative as you like. Boho interiors ooze personality and it's a fabulously fun approach. To pull the look off, you need a good eye for colour and a big dose of wild abandon. Styles and shapes aren't so important here – it's a global influence but a casual feel. So if you fancy the sound of a rustic flea market chair with a 1950s Hollywood chandelier, this is your look! It's more down to earth and rustic in feel than a lot of the other looks. Dispensing with formality, they are enchanting spaces where you instantly want to sit down, hang out and fling off your shoes.
THE DECOR
In my own pad I think the bedroom is probably the most boho space. The earthy hues of the Berber rug, wood clad wall and Crosby walls work wondrously with vintage accessories and oodles of greenery (faux of course). Plus lush textiles, a big slubby woollen throw, a textual panelled wall and a chandelier crafted from mud. LOVE! You really need to layer on the accessories in boho interiors. It's all about creating as many different textures and layers as possible.
The more layers you add, the more exciting a space becomes. Collect flea market art, mismatched vases, quirky lampshades; save quirky postcards and souvenirs. You want it to look like you've travelled all over the world – even if you haven't! Weathered patinas, tin tiles, textural wood and wicker weaves are all elements to chuck into the mix. You can mix a zillion different patterns too, as long as you create balance in the room by reigning in the colour palette. Get loud and busy with stars and stripes, squiggles, diamonds or flowers.
Photograph: Eva Kosmas Flores
THE LOOK
Just because boho tends to be rustic and offbeat doesn't mean it can't be glamorous. I recently found out that the unofficial slogan of Berlin is "poor but sexy", which I think just about sums it up! It's all about that insouciant glamour. Dripping chandeliers and ornate gold mirrors propped against the wall are just as home in a boho space as your old vinyl collection and that rusting metal trunk found in the auction house.
The great thing about boho styles is that you don't need a big budget. In fact, it helps not to be too precious about what you buy – the coolest boho interiors are filled with stuff gathered from car boot sales and auction houses, alongside loved hand-me-downs. The emphasis is on comfort and a casual, nonchalant approach to styling. Look for big squishy sofas, inviting armchairs or even the ultimate boho feature – a hanging chair or indoor hammock! Squishy pouffes double up as coffee tables or foot rests, textiles are fluffy and inviting, and plants and greenery spring from every surface. String up a few hanging planters, sling a sheepskin over that beaten up chair and drape the place with string lights. The thing is to have fun with you designs; unexpectedness is key to a fabulous interior.
FAVOURITE BOHO PIECES

Clockwise from top left: Hanging jute chair COMING SOON | Canta hanging flower pot | Amelia chandelier | Moroccan Azilal carpet | Staghorn plant | Drum coffee table | Adla vases | Amboise tibetan sheepskin cushion