Here's some tricks I've learned that will instantly elevate dining rooms. Or in fact, the main table you eat at – whether that's tucked away in the kitchen, living room or wherever. Do people have dining rooms anymore? I'm not sure, I don't know. (Let me know if you do – I'm genuinely curious!) Anyway, down to biz:
Photo: Nicholas Watt
CHOOSE CIRCLES
I tend to opt for round or oval tables, as they're more convivial for yabbering I find. They also soften the room, aren't so blocky, and the lack of sharp corners mean you can almost always fit in a much larger table than you'd expect. Honestly circles are the secret so go round or oval if you can.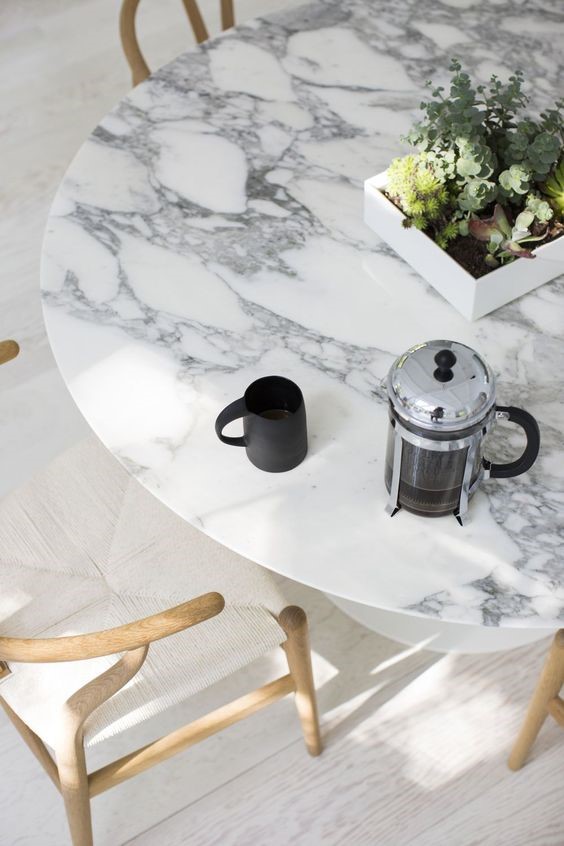 Just remember if you plump for a rectangular or square table to add other circular pieces to your space – perhaps a mirror, pendant or vases. Otherwise you will have too many straight angular lines and they will overwhelm the space.
Photo: Catellani & Smith
HOW LOW CAN YOU GO?
In my book always always always plonk a pendant or chandelier over the dining table. Oh and this is the important bit – hang it lower than feels comfortable. It's the one part of the room that you know nobody will be walking under it (what with that table in the way!) so go as low as you dare. Not only is it a great focal point it's a major decorative design component to all my schemes. You'll be defining the space, making it cooler maximizing sociability and conversation all by placing just one light over the table – genius no?
ADD A TOUCH OF LUXE
Finishes matter too – my table is a tulip style oval in black marble. But recently I've been absolutely obsessed with a clay table from Desalto, or perhaps wood and leather. Luxury materials don't just stop at the table too – I like to always sling a sheepskin over the chairs or bench. It instantly cosies the space up without looking too precious.
DON'T LEAVE THE TABLE BARE
I can't bear a dining table with nothing on it – super boring so accessorise the table as if it were your coffee table. You don't need much to turn it around. I've got a vase of blooms, my crocodile tray and a few t-lights. Check out my full guide to setting the perfect table here.