Stories, Notations, Discoveries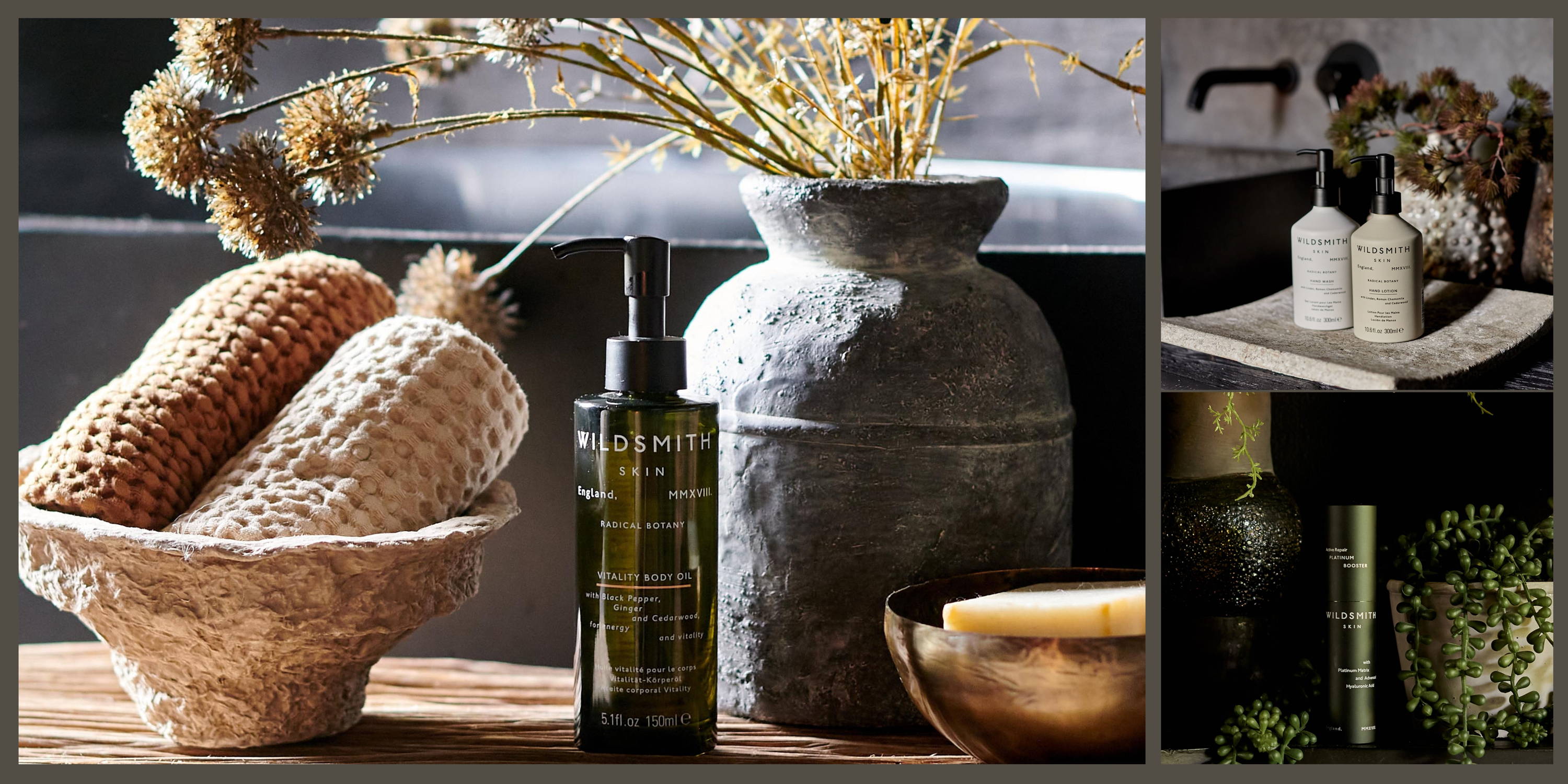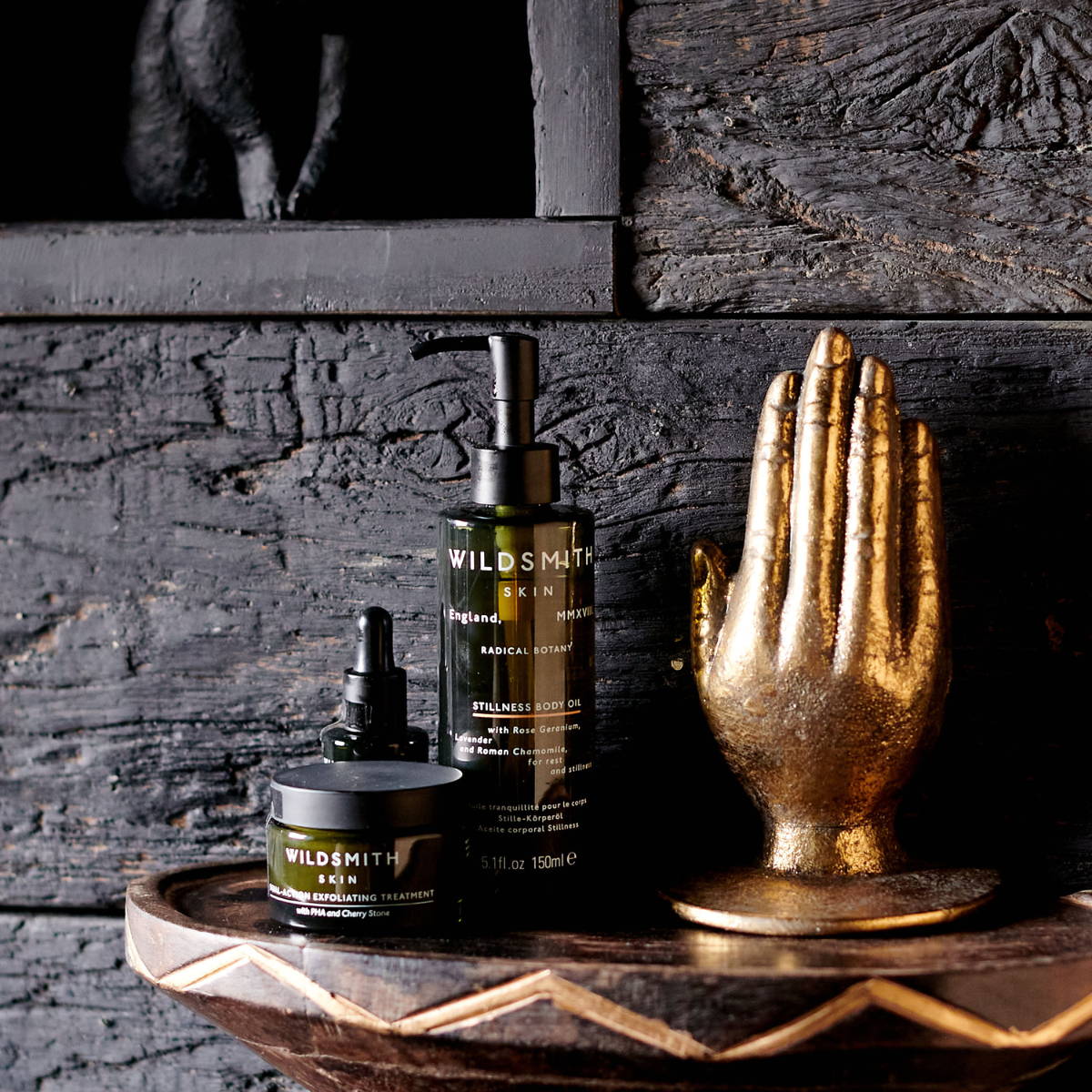 Abigail Ahern x
Wildsmith Skin
Create your cocooning ritual this season with Abigail Ahern & Wildsmith Skin
Self-care in the cooler months often comes in the form of small rituals we welcome when the dark nights draw in. This season we meet with Wildsmith to talk 'taking time' just for you, and how to create nourishing moments in a home you love.
Wildsmith Skin are botanicals-obsessed skincare brand with a beautiful sensibility that are committed to cruelty free, sustainable and environmentally sensitive practices.We share Wildsmith's belief that making small changes, whether that's in our homes or self-care habits, can be transformative in promoting daily wellness.
Gently unfurl from waking & set the right tone
In interiors lighting sets the mood. Illuminate dark mornings with little table lamps and use warm LED bulbs for a gentle glow rather than a harsh overhead light. Once you've stretched, and you're eyes are adjusted, kick off with some essential skincare that will set you up for the day. Wildsmith - Dual Action Exfoliating Treatment provides an absolutely divine scent to wake up to and gently removes dead skin cells and unblocks pores, promoting a smoother brighter complexion for the day ahead.
Make your sink a regular checkpoint
For many of us our home is office, gym, classroom and much more. Your sink can be a good anchor - safely away from your desk (usually!) and a place we return to throughout the day. Surround your sink with home accessories and mood-boosting botanicals. Even a single stem can be a beautiful visual pick-me-up. Then choose the right hand-wash, one that stimulates your olfactory senses. We love the Wildsmith Hand Wash and Hand Lotion set.Top Tip: Apply hand lotion, and cup your hands towards your face to inhale the soothing natural botanicals. Take a few deep breaths and let the calming effect of Linden and Roman Chamomile transport you to the English countryside.
Creating your own little rituals and taking some time for yourself will really benefit how your skin looks and feels. It's so easy to get bogged down in the 'everyday' but making those little pockets of 'me time' will help towards creating a little bit more calm in our lives, something I'm sure we all need a little (or a lot) more of.
Whether you make time for a nice warm bath or shower or not in the evening, applying a body lotion or oil will give your skin the moisture it needs in colder months. Wildsmith - Stillness Body Oil will help to get you into that evening mode where you can start to switch off.As with all of Wildsmith, it's not only the sumptuous feel of oil, but it's the smell that encourages relaxation: chamomile, English lavender and rose geranium oil calms, quietens and soothes the mind.Ensure your bathroom is also full of candles, and mood-enhancing home accessories. These are crucial in creating a space you love to spend time in.
Prepare your Bedside Saviours
The final ritual of the day. Your bedroom should be a calm and cosy space with plenty of textiles and mood lighting and your bedside table may already house your essentials: a good book, jug of water etc, but make some room to store your skin saviour. Wildsmith's Platinum Booster - is Abi's favourite and the ultimate luxury. It can be used in the morning after cleansing too but using it at night will provide an instant boost thanks to its collagen boosting matrix and encapsulated oxygen which helps deliver plumper skin.
Need more Inspo? - we think you'll love these.