Getting into the Halloween spirit today, with a bit of gothic glamour! Don't panic, I'm not asking you to cover the place in black and orange streamers, or to have plastic novelty monster masks on the walls. Instead I'm talking subtle gothic elements which add a bit of an edge and dark glam to your space. Maybe heavy velvet, faux furs and animal skin, dripping candles, paneling, stacks of old books and a few creepy-quirky accessories.
Gothic everything is seriously trendy at the moment, in interiors, art, architecture, fashion. I reckon we can all take a touch of the dark side and embrace it in interiors all year round, whether it's picking up a paintbrush and painting your walls black, or creating a mysterious, candlelit atmosphere in the evening. These are my top shopping picks to try to tempt you over to the dark side!
These two perch happily on a high shelf in my studio, and are the perfect guardians for your bookshelf. Gothic muses of Edgar Allan Poe, omens of doom at the Tower of London, but somehow they're still a little cute and cuddly too!
Crystal head vodka
This has got a bit of a cult following in the States, and it's not hard to see why. It's just so cool! For vodka buffs, the vodka is apparently the world's purest and filtered through diamonds and all that jazz. It does taste great, but it's the super cool bottle that really has me interested. It has pride of place on my bar trolley.
£62.99, Selfridges
Erigone chandelier
It isn't truly gothic without a chandelier. I'm totally obsessed with chandeliers all year round – there's one in every room in my place, and I'm always looking for something a little bit different. This modern version is very arachnid inspired to me!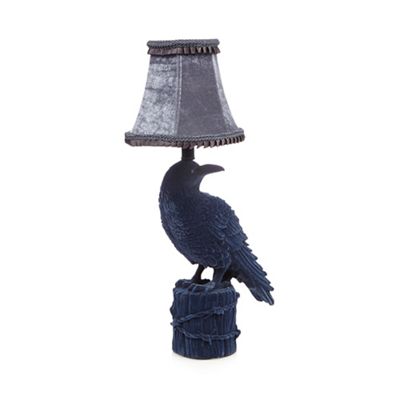 Raven lamp
I wanted my Debenhams collection to have enough quirky, surreal animal pieces to make you smile! This glam crow lamp should do the trick.