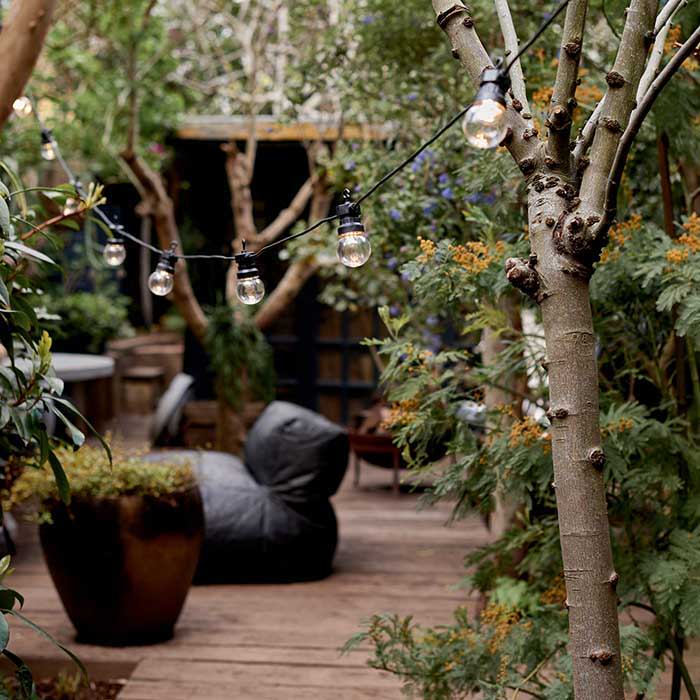 Read on for tips on how to take some of your stylish interior tricks to ramp up your exterior and blur the boundaries between inside and outside to create a garden living space that you can enjoy all year round.
Bringing the Indoors Outdoors - Creating a Garden Living Space.
All too often our outside space gets a little neglected in the cooler months, and then as soon as the first signs of Spring start to unfurl we realise that we need to spruce it up and get it ready for enjoying the warmer climes and lighter eves.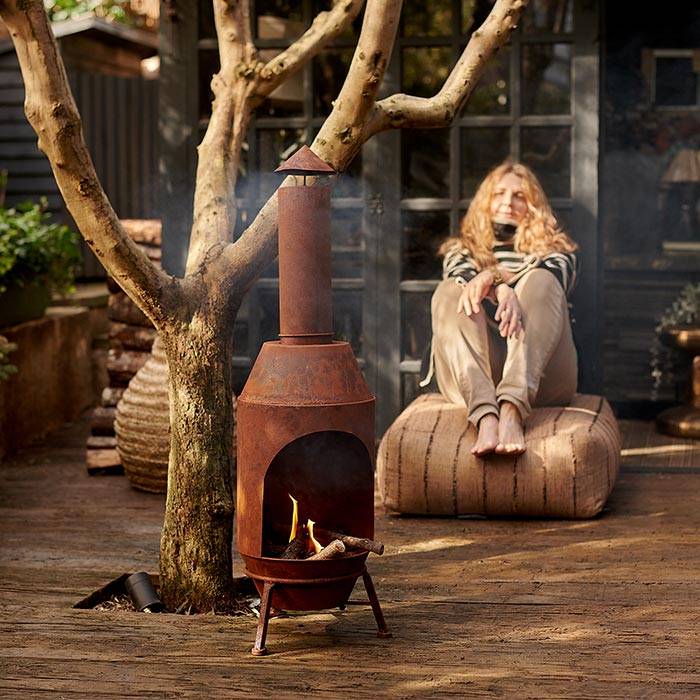 "It can be the perfect retreat, somewhere to soak up all the sounds and smells that the outdoors has to offer which in turn benefits our mental and physical wellbeing"

"Even if you haven't got a large garden - you can still bring the inside, outside with clever placement and a touch of magic."
We've all heard of bringing the outdoors, indoors - but why bring the indoors,outdoors?
Outdoor space whether that's a large garden, small courtyard or a petite balcony, should be considered as an extension to your interior, another room, which is especially important if you live in a city and space is paramount!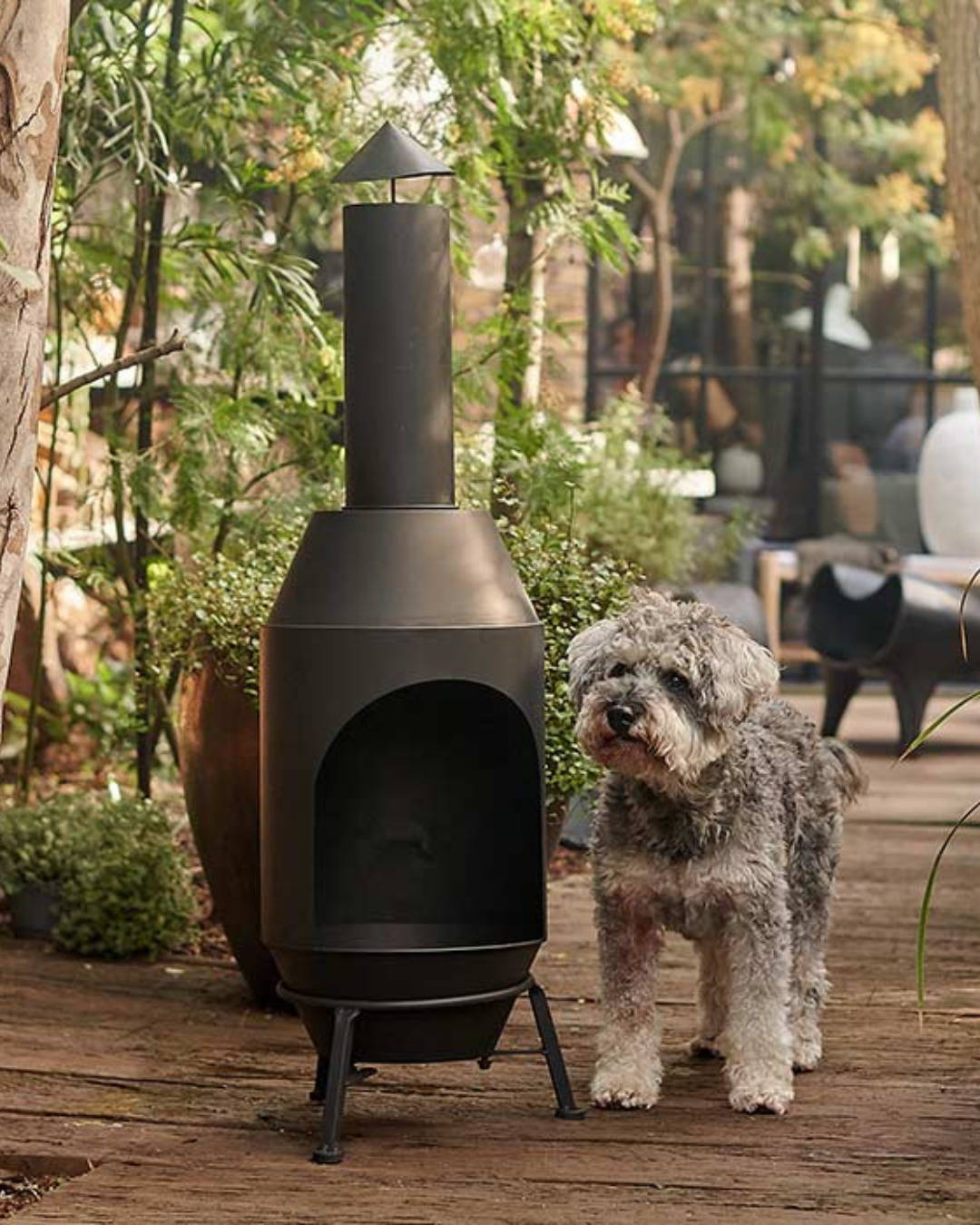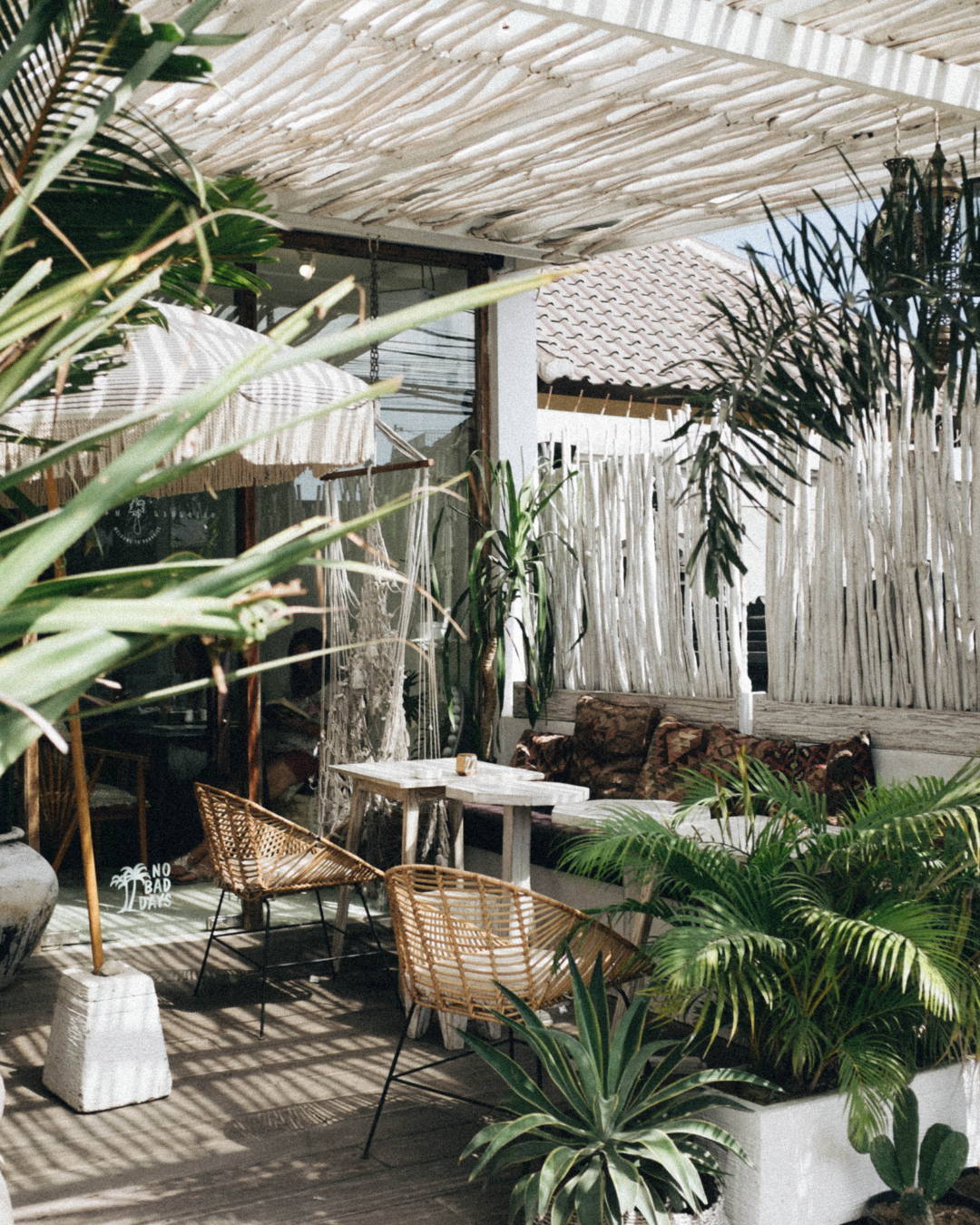 Consider reviving an underused space! Even the smallest of areas can be turned into a cosy, decorative outdoor living area.
Why we Love a Garden Living Space.
The garden is not only a fabulous asset to extend our living space but it can also evoke memories of holidays spent basking in the sun, enjoying a cocktail (or two), feeling carefree and it's amazing how much better food tastes cooked and eaten Al Fresco!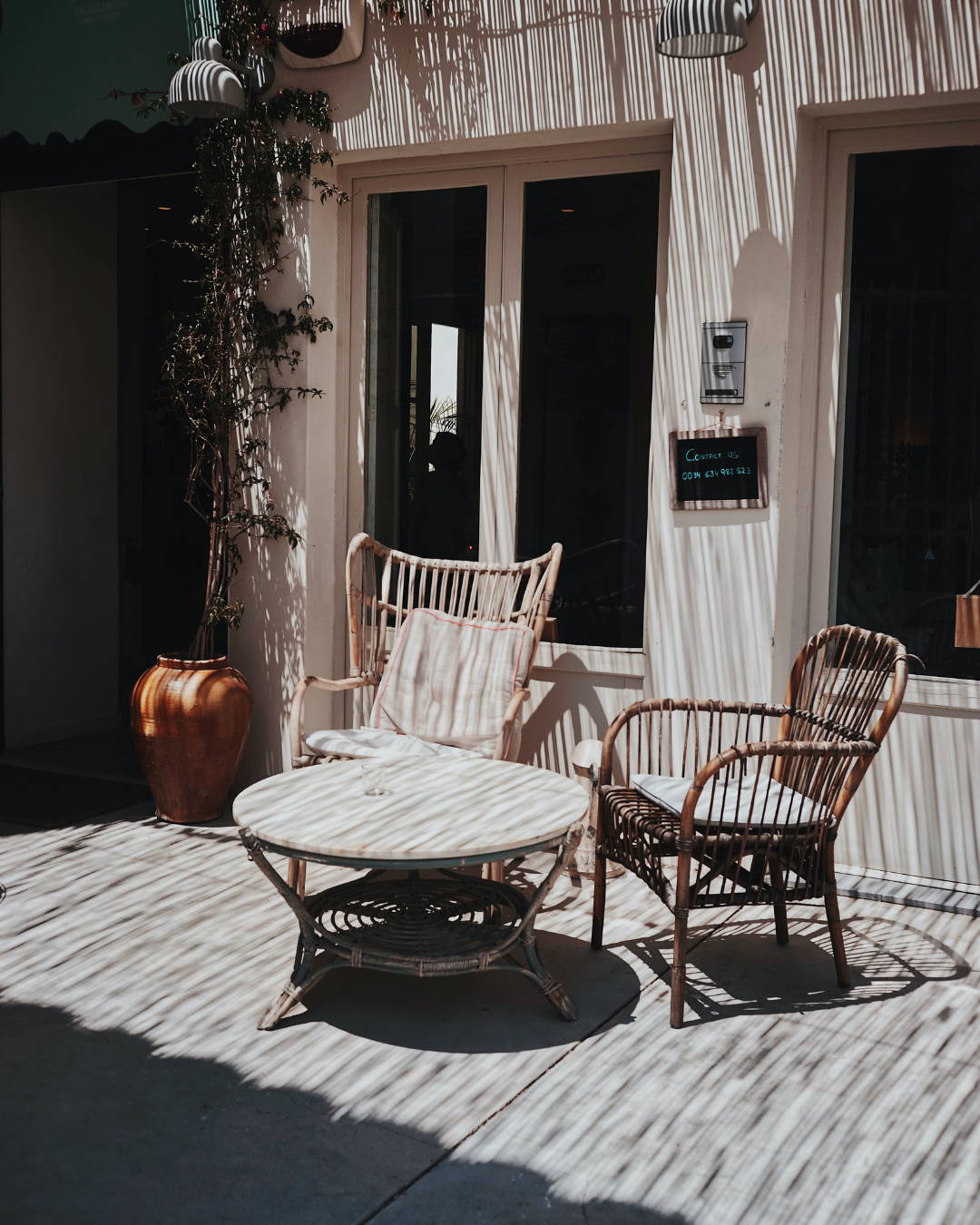 Tips for creating the indoors outdoors look in your garden.
Zoning the Garden into Different Areas
If you have the space, think about creating different zones. Take note of where the sun rises and sets. Do you want your morning coffee in the sunshine and your al fresco dining area in the shade? One of the best ways you can create an indoors outdoors effect is by zoning, such as dedicating areas to outdoor entertaining or garden chill out areas.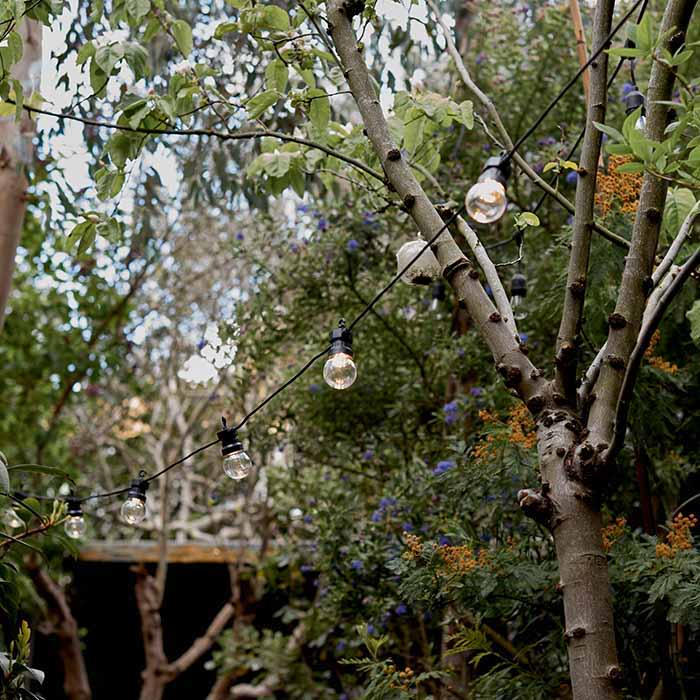 Why cut your evening short as soon as the light dims? Make your area feel welcoming and cosy by making sure you have different kinds of light, including candlelight. Never underestimate the power of illuminating your space.
Make it suitable for all year round.
Adding a log burner or fire pit will ensure that you still use your little garden haven in cooler climes. Don't just limit it to the spring/summer months.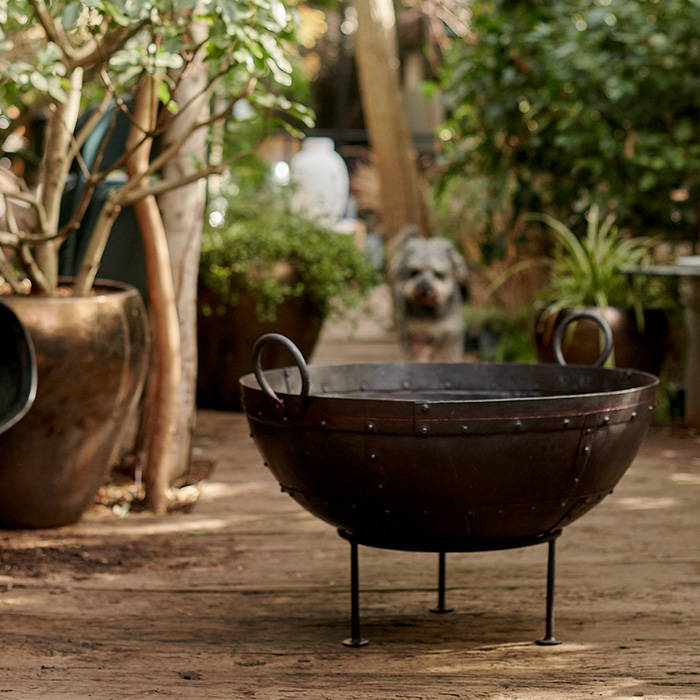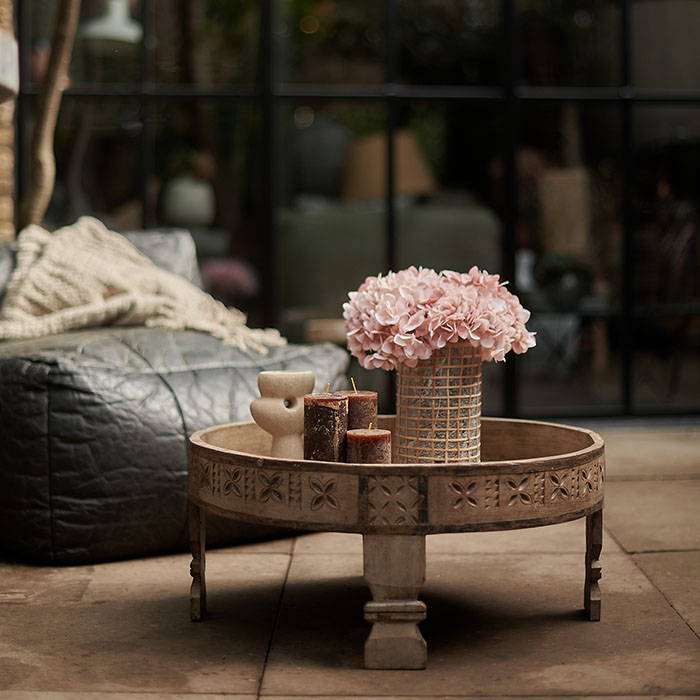 Indoor Accessories for Outside.
Like any room, think about the details, adding sculpture, candle holders, pots and trays. Although if you choose to use your faux botanicals outside like Abi, ensure that they are protected.
If you have a small space, lush evergreens are a game changer. Ornamental grasses also have magical sensory qualities, the sound of them gently swaying in the wind is so soothing. Herbs edging a path will smell beautiful when brushed.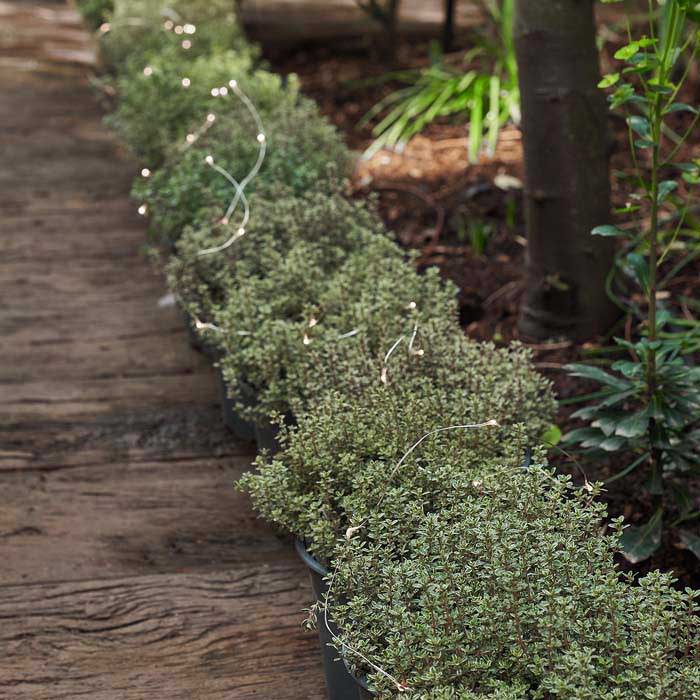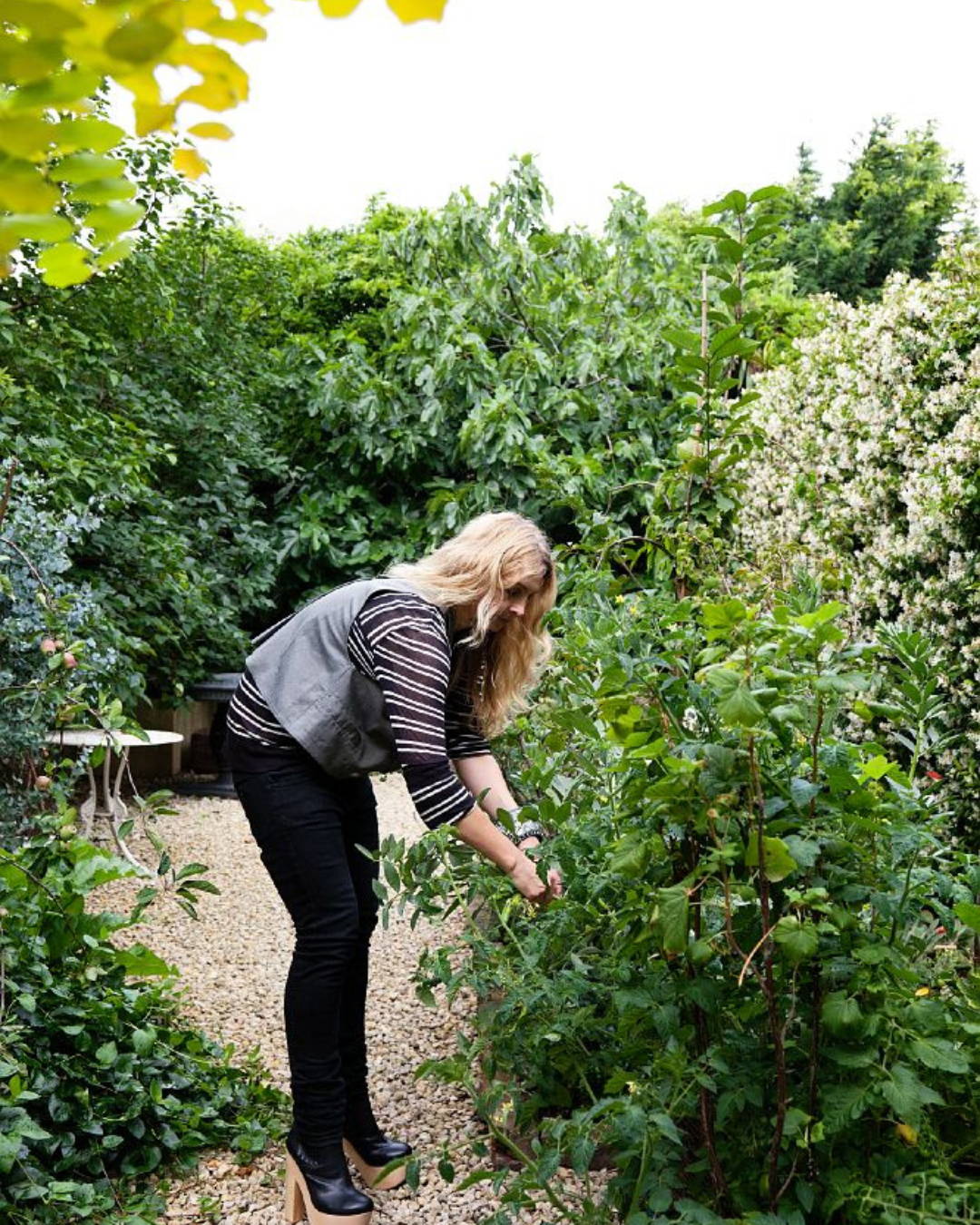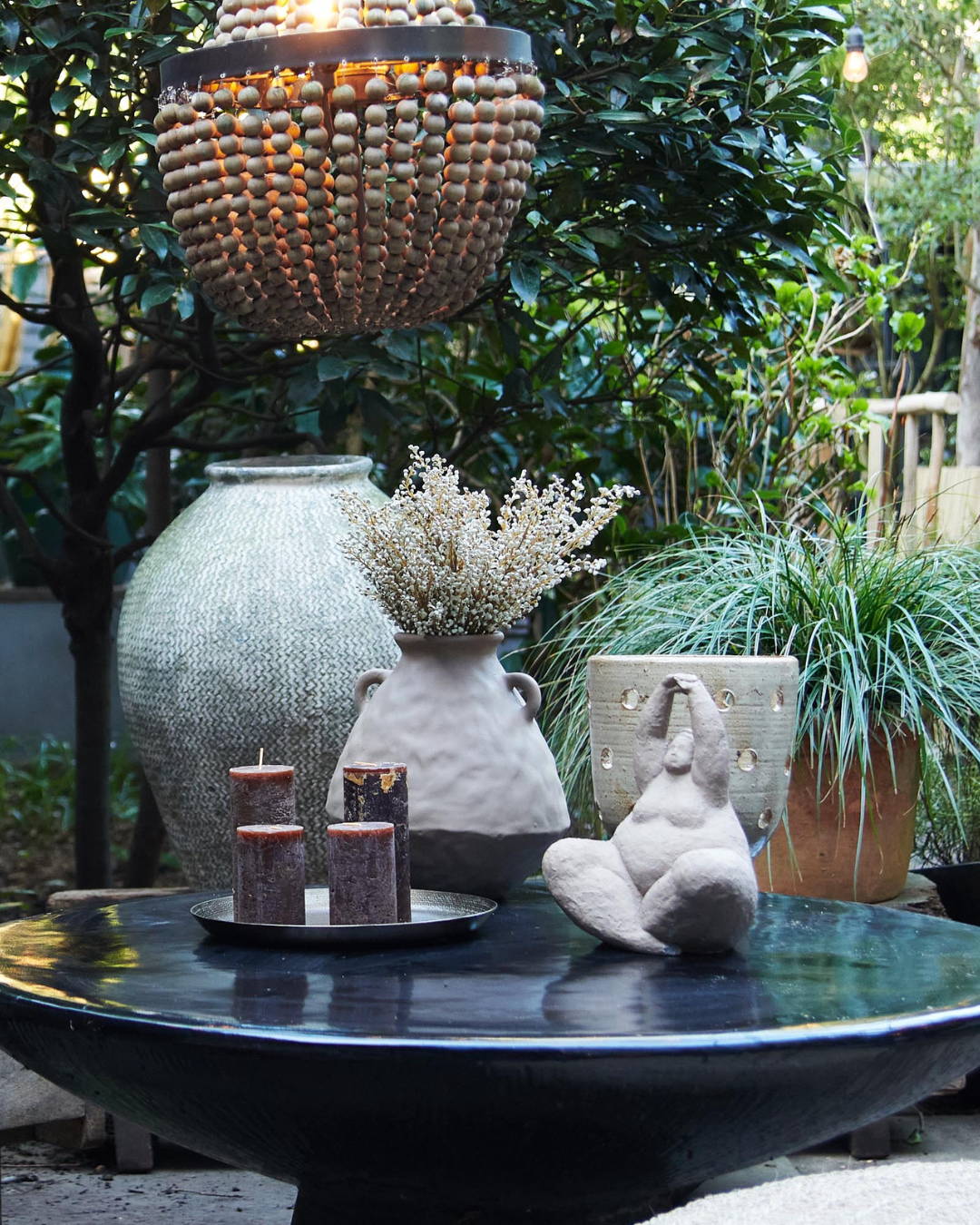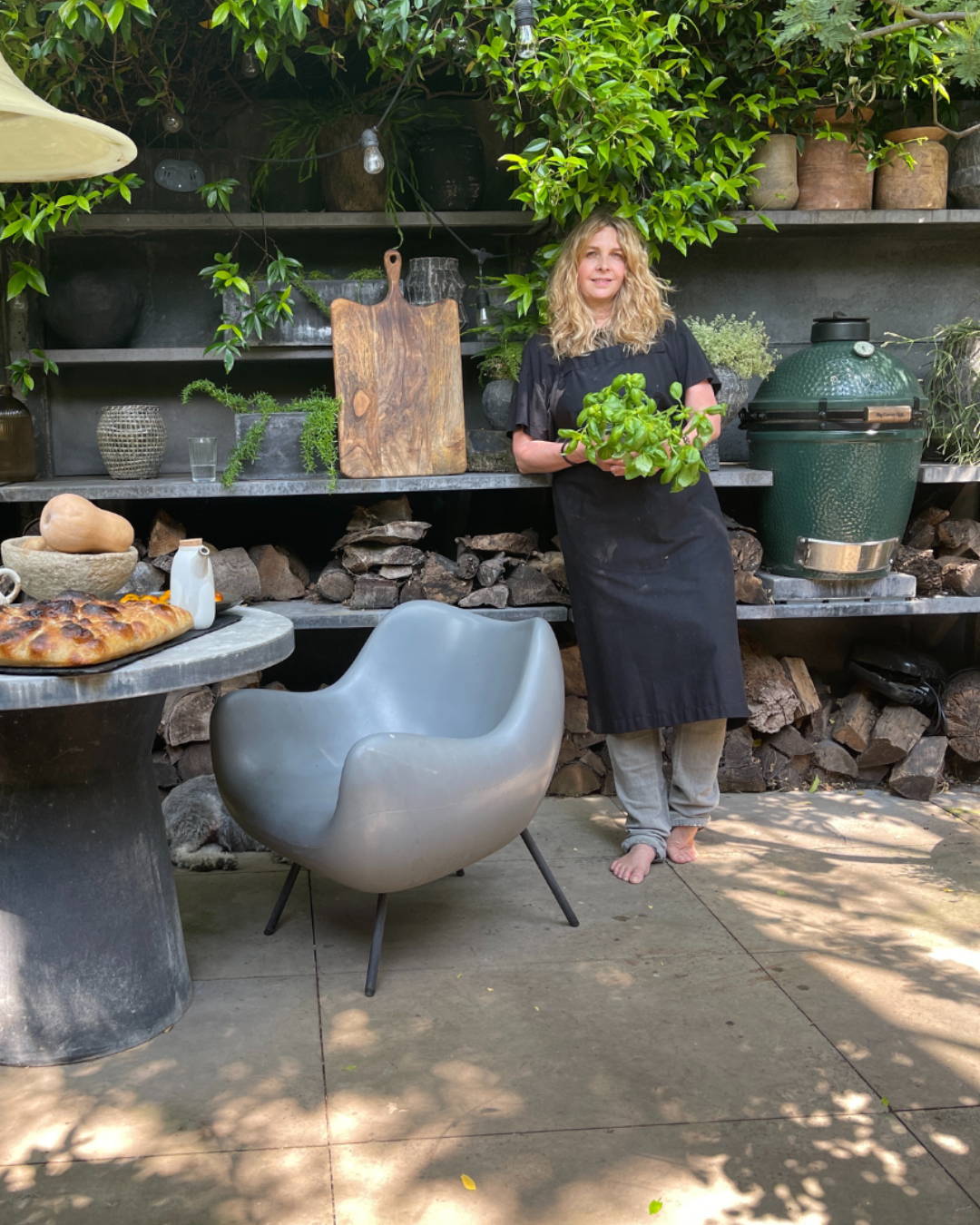 Even if you haven't got a large garden - you can still bring the inside, outside with clever placement and a touch of magic. Smaller outdoor living spaces can feel cosier - just like Abi's piece of bohemia in her relatively small urban garden in East London.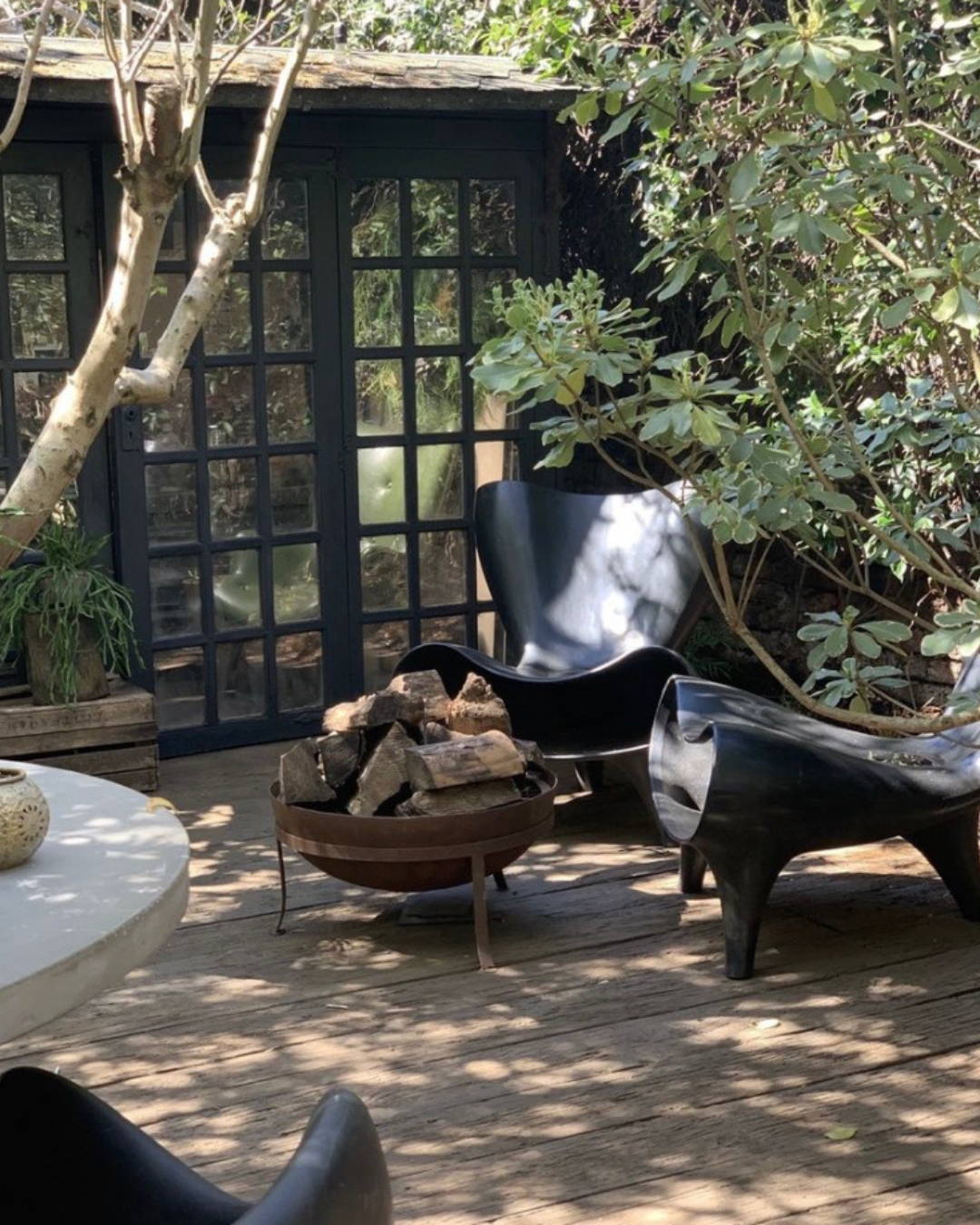 One of the most important elements of interiors (especially with a restrained colour palette). Contrast concrete pots, ceramic planters, wooden or metal furniture, maybe even a beaded chandelier, all of which look amazing against a planted backdrop.
Restrict the Colour Palette.
As you would your interior, limit your hues and let the garden planting, foliage and flowers do the talking. Abi has filled her garden largely with greenery and foliage with just the odd splash of white from the jasmine and yellow from the mimosa. A restricted palette makes the space feel less hectic and more sophisticated.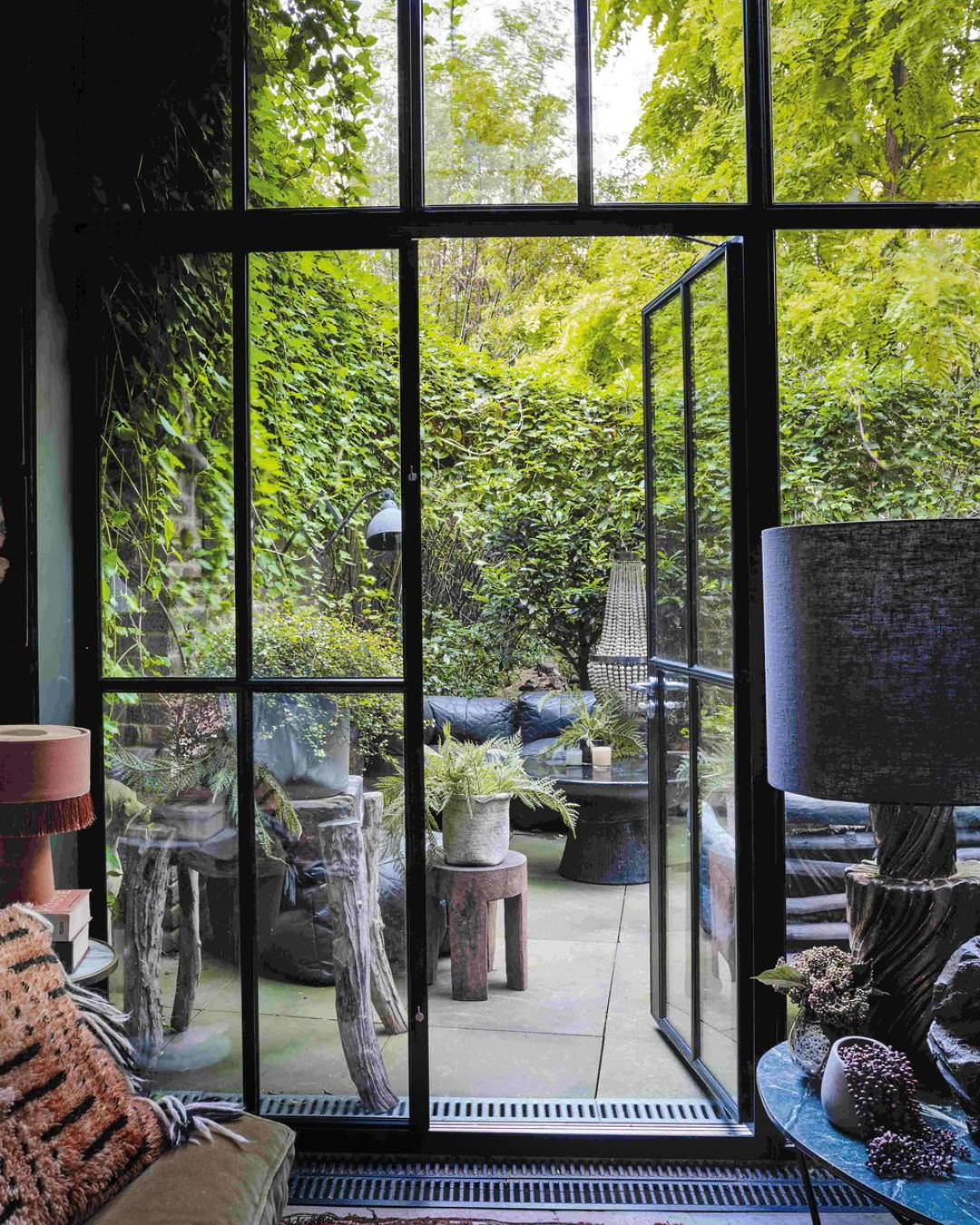 In order to make the space feel cool we need to create a lively rhythm, switch up heights, have layers of interest. If everything is the same height or shape it reads as boring. Instead you need to create depth. Supersize pots or use tropical planting that zooms to the moon.


"Figuring out your scheme depends on the vibe you want to create. I wanted a secret garden whereby you can'€™t really see what is in front of you because there is so much planting in the way. Plants aren't just neatly dotted around the perimeter."



"So with this outside room I tie it in with colours and textures and materials so that both the inside space and the outside space flows and extend beautifully into each other."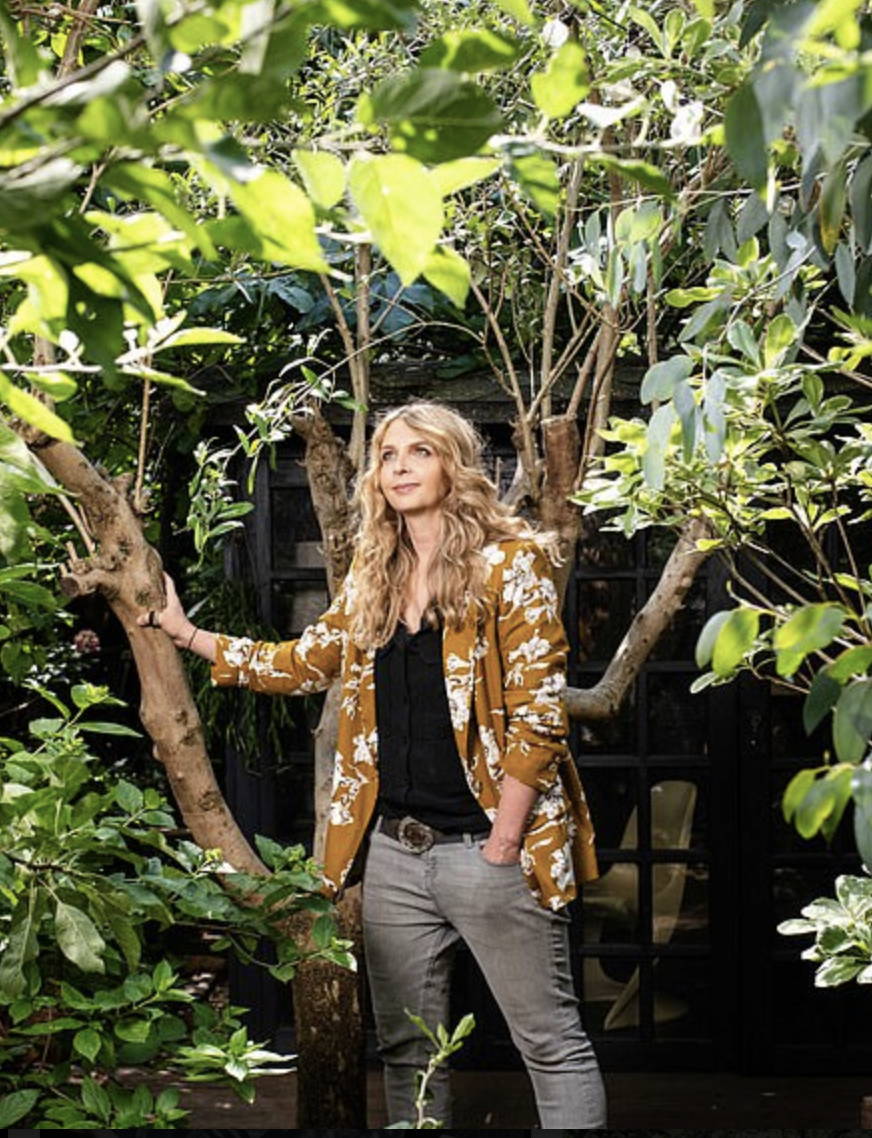 Like any room, think about the details - lighting, accessories, little tables, pot plants are all integral to your scheme. Layers, basically the more layers the more intrigue. Lighting in particular is a game changer for outside spaces it creates such a soft ambience and sets such a wondrous mood. Choose outdoor materials that are beautiful as well as durable. Abi has gone mostly for concrete. It's perfect in all weathers, low maintenance, durable, tough and literally requires nothing doing to it. The concrete is also dark so it blends into the interior really beautifully.