Take a tour of Abi's Lounge/ Living Area
In celebration of our 20 years of decorating differently, Abi is giving us a full tour of her fab pad. Take a peek at her cosy living area and a few before and afters to see how her space has evolved into the cosy cocooning nook it is today.
I'm constantly restyling, rearranging or creating new vignettes with my stuff, it's amazing how much new life it brings in. It could be as simple as adding an additional little seating area or clearing a mantle and table and starting again.
My Living Space.... before
Looking back at my style over the years there has been a slow evolution, hard at first to pinpoint but I think with an expanding taste, a lifestyle shift (now we are working from home most days making it the most cocooning space ever has been paramount) not forgetting the fact I'm constantly working on so many different styles. Putting language to my aesthetic I think I've moved away from brights to a more soothing palette. I feel my spaces now are more evocative and emotional and I've infused my passions from art to ceramics throughout.
Ultimately I've created a space that satisfies more than just my senses. Without question this is my sanctuary, there is a true mind, body and space connection. The main colour in the relaxation area is Madison Grey which contrasts and blends seamlessly with the adjoining kitchen and dining area which is painted in Pickle. Madison Grey is the perfect colour for my living area, its complex undertones change throughout the day, culminating in a soothing dark but soft green when the natural light fades. It's the loveliest backdrop to my furniture and accessories and creates a seamless flow into the garden and the rambling greenery.
Making the living space cosy
My trusty sofa by George Smith is over 20 years old. It's never been re-upholstered and it's soo comfy. The colour is a similar tone to the adjoining dining area/kitchen (pickle) and acts as a harmonising thread that links the zones together. I love an eclectic mix and have created several different areas to sit depending on how I feel and the season. In the cooler months I tend to snuggle in front of the fire, and if I'm going to watch my latest TV obsession (desperate housewives is a fave), I'll relax on the sofa with the M's. I'm often asked about my television, yes I do have one, it's just disguised!
I have a concrete floor so I have swathed the whole area in rugs with varying textures, tones and patterns. My favourite from Maroc Tribal flanks the sofa and others I have scattered in and around and under furniture. To make the space feel calm, I've restricted the palette and have just a few colours on repeat. Cushions, sheepskins, throws and blankets are propped and draped which adds to the cosy feel. This is generally my evening hangout, the place where I flop at the end of a busy day, so I have made it the cosiest.
Lighting your living area
I'm always banging on about lighting, it's one of the most important design elements to any room and I would not be without my abundance of table lamps in my relaxation zone. They're key in making the space look and more importantly feel enticing. Highlighting vignettes, adding depth and layers and drawing the eye, the magic of lighting should never be underestimated.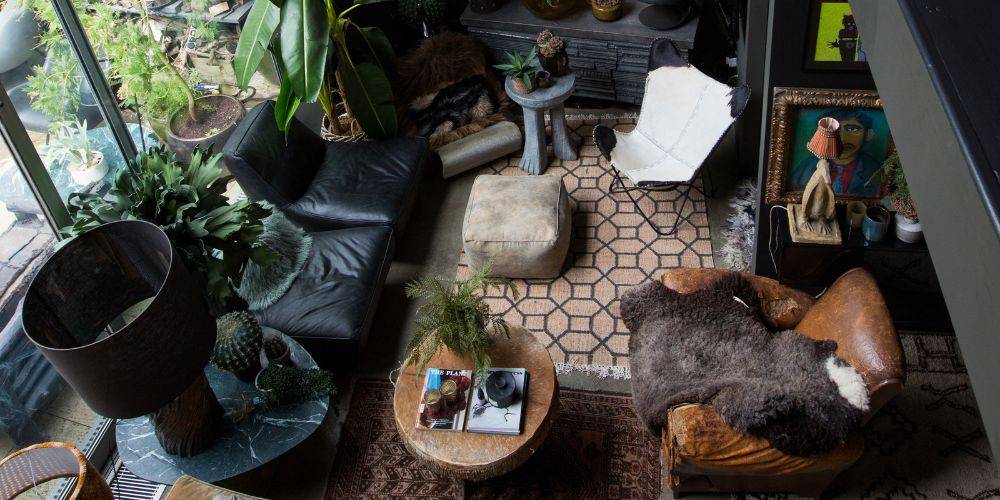 Do you finish decorating too soon? One of my favourite and key elements of any room design are the finishing touches, they make the space homely, inviting and characterful, softening the edges and enticing the eye. Of course I would never be without my abundance of faux botanicals which I change up quite regularly, bundling them into large oversized vases on my console or even the odd bud vase on my coffee table, not only do they add a huge dollop of texture but I love that I can reflect the view from my crittall windows into the garden, a nod to the season.
Characterful accessories, sculpture, art and ceramics all feature heavily in my cosy nook of a living area, my aim is for you to enter my zone and wherever you look there's an intriguing little artefact or something to catch your eye, something that makes my heart skip a beat, the ultimate goal for any interior space in my book. Hence me always banging on about finishing too soon, don't bail with the finishing touches, they will uplift your decor to new heights, guaranteed.
Abigail Ahern - Living Area Tour
↓
Take the tour with Abi as she talks you through the different elements of her

living

area and how it has evolved over the years.
Abi's Living Area Highlights
Smatter some AA magic in your living area to create a cocooning vibe to nurture and soothe.
Need more Inspo? - we think you'll love these.