Stories, Notations, Discoveries
Abigail Ahern x New Blood Art
January is the perfect time to embrace new opportunities and to rethink, revitalise and recharge your decor. Follow our fail safe ideas for mini transformations to your home that won't blow the budget.
Art adds instant style and personality to your home. This exciting collaboration showcases Abigail's hand-picked curation of unique pieces from new emerging artists represented by New Blood Art.
New Blood Art was founded in 2004. An online gallery that represents emerging artists just out of university. Showcasing their work and connecting them with collectors. They're committed to the future of Art online and provide a platform for upcoming and exciting artists that are breaking new ground and are at the start of their career which is also great opportunity for art lovers to buy pieces at affordable prices.
"Nothing makes my blood plump faster than discovering works fresh from the studios of emerging artists - and New Blood Art does the most fabulous job of curating whats out there in the marketplace. I would never be able to discover so much diversity otherwise."
Adding art to your walls is one of the most transformative things you can do. It gives them instant kudos as well as adding colour, dimension and texture. It's a real conversation starter, it has a back-story, tells a narrative and brings a space alive as well as having the power to evoke emotions. Deeply personal, it speaks differently to everyone, creating a focal point and a home that is reflective of you.
When I'm buying, I never worry about size or technique or the art period or where I'll put it or any of that. I just pick artwork that I have an instant emotional attachment to.
How to add Art to your Home
Follow Abi's tried and tested tips and tricks on how to incorporate art in your home to create spaces that ooze personality and represent your unique style.
When you're choosing art, my only rule is to buy from the heart. I pick artwork that I have an instant emotional attachment to. It might be because it evokes a particular mood or atmosphere, or maybe the colour palette particularly resonates with me. I love new artists, they seem to have ballsy attitude which can really bring an edgy vibe to a room.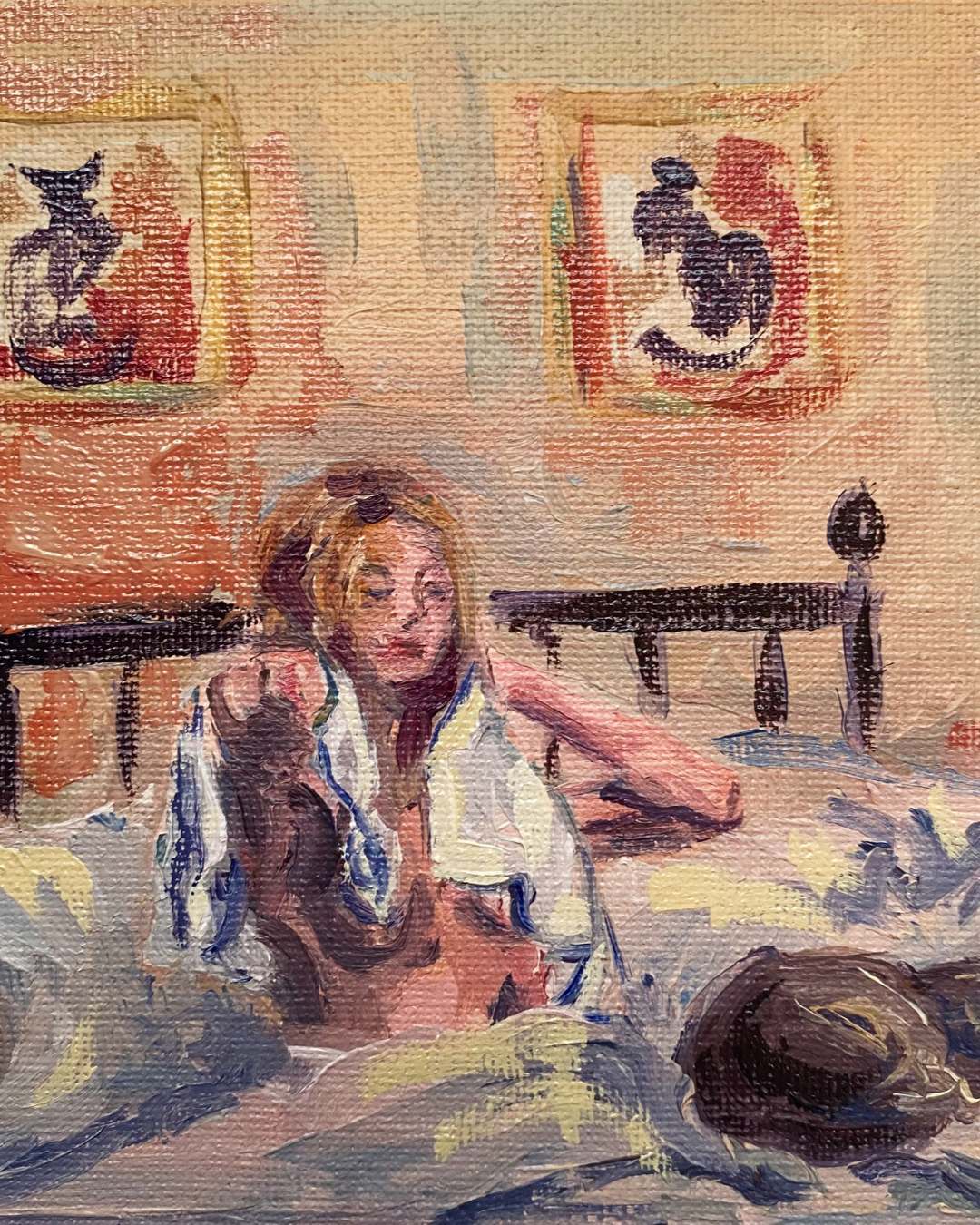 This bijou masterpiece will add an artful vibe to your pad.
'Evening' - Original painting in oil on canvas board by
Katherine Benson
(18 x 13cm)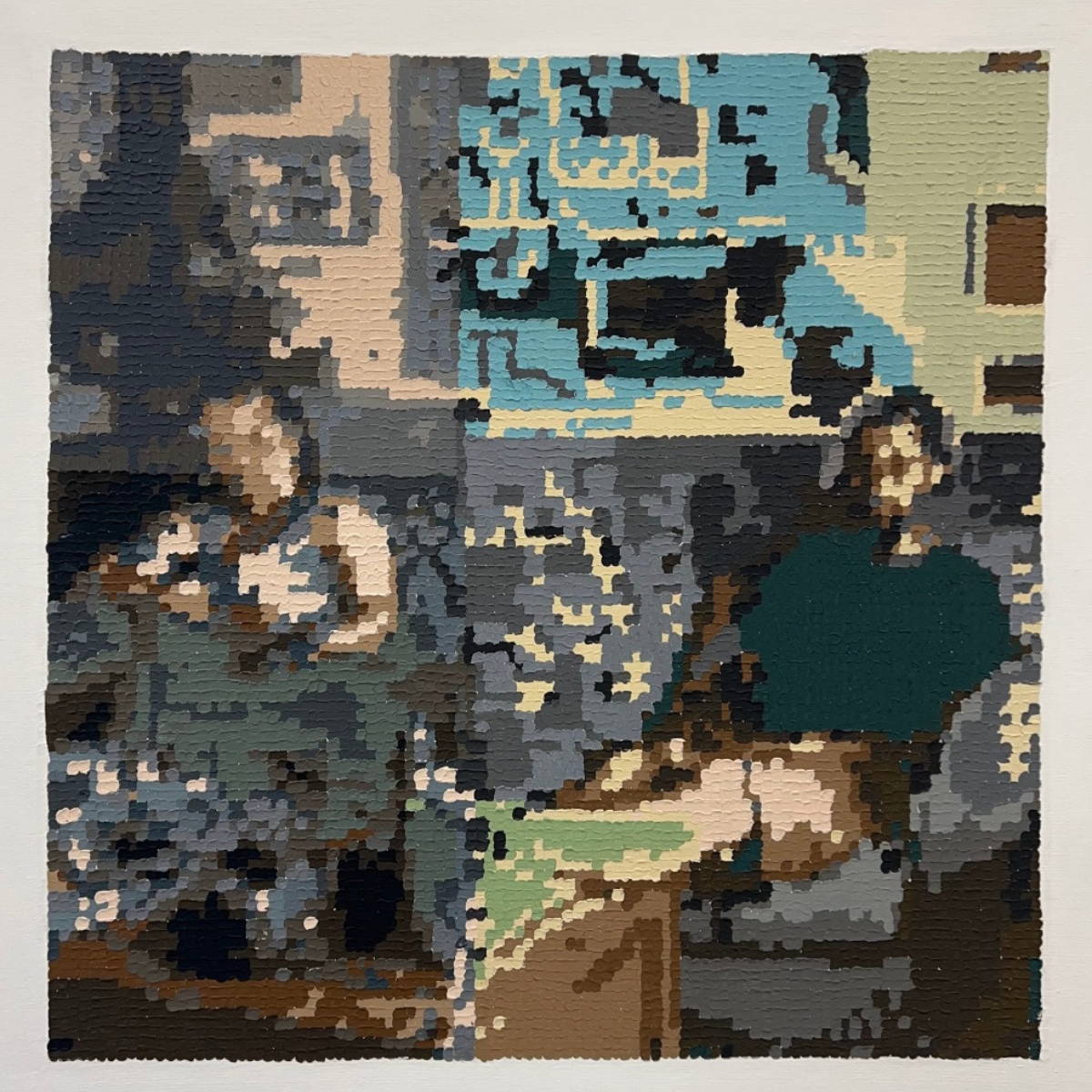 Original painting in acrylic on canvas
'Lounging' - by
Martyna Wolanin
2. How to arrange Art at Home
For a cool casual vibe consider just plonking art on the floor, or propped on shelves or side tables. This is also a great way to live with your art for a while to see how it feels in your space and before you decide on the perfect place to hang it. One of Abi's favourite unexpected art tricks is to prop or hang it in front of a bookcase. The Americans do this a lot and it's really clever – handy for hiding ugly stuff on shelves.
"It's the extra layers of interest like artwork and decoration that add oodles of personality to a space. So don't skip on art!"
Gallery walls at home are the most inexpensive way to turn a big ol' plain boring wall into an extraordinary wall. Starting an art collection may sound a little grown up and expensive but your gallery wall doesn't need to be full with expensive artwork. It's not so much about any individual piece but the impact they have collectively. Follow my 4 tips below on how to add this eye-catching design element to your home.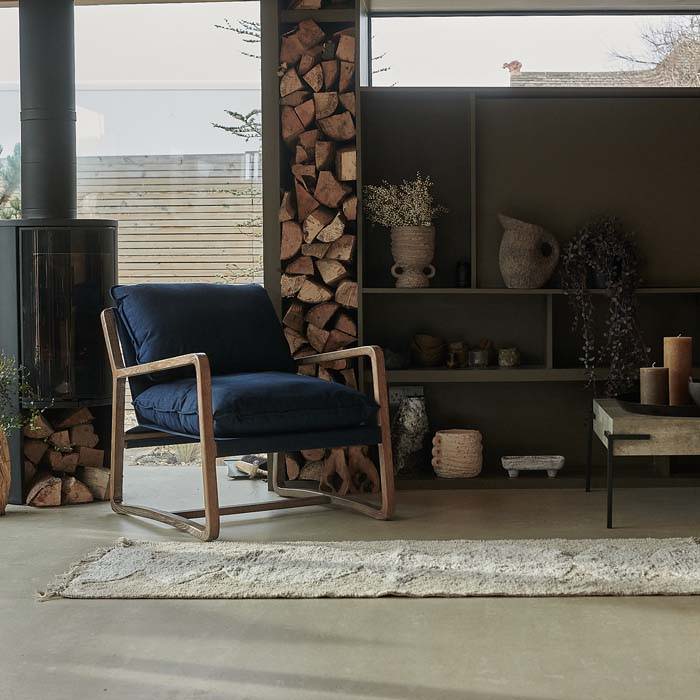 with Sarah from New Blood Art
What inspired you to start New Blood Art?
Being an art student, and there not being any avenue, any realistic avenue for selling work. All of us at art college took supplementary jobs and had portfolios full of artwork with no means of selling the work we were making. This was before the affordable art fairs and before the e-commerce world. There were the railings at Bayswater, and then there were physical galleries, representing so few artists with much higher price points, and there was nothing else really, nowhere to sell work and that always stayed with me; the thought that there were lots of talented artists making wonderful work with no means of selling it. At the same time there were people who would have really loved to buy the work.. But I couldn't work out how to do it, because the overheads of having a space were just too high to sell lower price-point pieces by artists just starting out. Then I went to live in Botswana for two years when I came back in 1999 and everyone was online! I think the shock of the contrast was particularly potent and the internet became an obvious route.. New Blood Art was born a few years later.
How do you choose the artists that you represent?
I go to the degree shows, the work jumps out..
Do you have a favourite art medium?
I love paint, oil paint, though am developing a real fondness for textiles!
What is your most standout moment from the last ..... years?
What a great question. We raised our first round of investment via crowdfunding last year. That felt special - getting this investment over the line and seeing all the support that we have. And then, every year at the degree shows finding these amazing artists, it's so exciting to discover a stand-out emerging artist. I deliberately travel off the beaten track to the art colleges that get less exposure – from the top to the bottom of the UK.
What is your favourite room at home and how does Art feature in it?
he bedroom. It's a real sanctuary from the working day, feeling somehow buffeted from life and I think the picture you look at, or whatever you look at last thing at night and first thing in the morning influences the unconscious and has a subtle and important impact on how you feel. I think you need to feel inspired by what you see when you wake up and safe and nurtured when you go to sleep. I chose a piece by an artist that we used to show called Katherine Jones – she's a really good example of what we do at New Blood Art, an artist we showed many years ago who has gone on to gain critical relevance. Katherine is now a Royal Academician, and I bought one of her prints called A House In The Woods and it's one of my favourite pieces, it's a particularly nurturing and inspiring - I love it!
"It's so exciting to discover a stand-out emerging artist. I deliberately travel off the beaten track to the art colleges that get less exposure – from the top to the bottom of the UK."
Sarah, Founder, New Blood Art.
Abi has hand-picked some of her favourite pieces in collaboration with New Blood Art
Need more Inspo? - we think you'll love these.