Create an Outdoor Living Space with Abigail Ahern x Soto
A shared vision for your outside space to be as stylish as the inside of your home. Discover styling and planting ideas and advice from Soto and Abigail for the ultimate space to relax, dine and entertain.
A shared vision for your outside space to be as stylish as the inside of your home. Discover styling and planting ideas and advice from Soto and Abigail for the ultimate space to relax, dine and entertain.
"To create magical spaces indoors and out, we wan't to tantalise the eye. Don't just pop everything around the perimeter, use the middle of your space to create visual intrigue."
Use lighting, furniture and accessories to make your outside space as stylish as inside. String lights & lanterns that make your garden glow when the natural light starts to fade, sculptures and soft furnishings like cushions and cosy blankets to add the finishing touches that make your space feel like you want to linger longer.
Creating an Outside Living Space
The first step should always be to work out how you want to use your outdoor space and create different zones and areas. Whether you like to entertain, cook and dine alfresco or relax in a shady nook. Outdoor garden furniture and clever planting schemes are great for zoning and creating different boundaries. Which is why Abi recently enlisted the help of Soto, a garden design company that provide inspiration, advice and the perfect plants for your space.
"Our vision is for your outside space to be as stylish as the inside of your home. We provide advice and ideas but also enable you to put these into practice."
Choosing the right Plants for your Garden
Consideration should be given to the tones, textures and colours in your garden just as you would for your interior rooms. Considered planting schemes with different heights and textures can completely transform your exterior landscape. Just make sure you choose the right plant for the right area to ensure it flourishes and looks it's best. This can be a little daunting if you're new to gardening or feel a little confused or overwhelmed about what's right for your garden. No need to worry, help is out there, Soto provide a wealth of advice and expertise for you to find the perfect planting scheme tailored to transform your outside space.
Check out Abi's edit of plants from Soto
Watch the full video here.
We asked SOTO for some helpful tips and advice about gardening.
1. Why did you create Soto and who is it for?
Soto is about democratising garden design. Bringing the designer look to your door at garden centre prices. Soto is for those who want a stylish outside space with just a few clicks of a mouse.The idea came to Laura and Jamie at the end of a house renovation. They had a no idea how to bring the lovely gardens on their Pinterest board to life. They didn't have the budget for a garden designer and with two small children and full-time jobs, they didn't have the time to research how to create the look. Garden centres felt like the Wild West and there didn't seem to be any easily digestible guidance to help keep the plants alive. So they approached me to set up Soto.
2. Where do you find your inspiration for your curated planting schemes?
My Inspiration can come from everywhere when it comes to design, the smallest of things can often spark my imagination. Being around plants most days has helped me understand their pros and cons and often steers the design process. I wanted to bring different feels through the Soto collections, Soto white is cool calm and sophisticated whilst Soto house is full of colour and texture. The collections have all been designed with the flow from house to garden in mind, to ensure that your garden can feel like an extension of your home.
3. What are the best plants to use in a small space for all year-round interest & foliage?
A great way to start in a small space is to look up. Use the space above you to make your little garden feel bigger. Climbers such as jasmine or climbing hydrangeas, will draw the eye up. Make sure pots are beautiful as well as functional. The English Maidenhair Fern appears to be delicate and cute but once established is very hardy. The long fronds are made up of black stems with small, light green leaves. This plant adds a gentle and lacy texture to pots, or in small borders. Green Carpet is a fantastic ground covering that is evergreen. Soto uses it under tall plants and trees for evergreen texture. Also known as Japanese spurge, the large leaves are leathery and the plant has small white flowers which appear in early spring. The Sweet Box provides fragrant and visual interest in winter. It has glossy green leaves with sweet smelling, small white flowers which are followed by black berries. Well received by bees and other wildlife in the winter, it is a great provider of evergreen structure that isn't too formal.
4. Here at AA we love texture and wild naturalistic looks - think Piet Oudoulf and Dan Pearson, what plants do you recommend for our gang?
Mexican Feather Grass brings movement and texture to your outside space throughout the year. Also known as 'Angel Hair', the stiff grass waves in the wind and are joined by feathery seed heads in the summer. The grass starts green before fading to a buff colour. Irish Green grass brings glossy, evergreen movement to an outside space. The long, mid-green leaves arch into mounds creating year-long interest. The grass is fantastic as a backdrop for other plants to 'pop' against or as the star of the design with a focus on its rich colour and form. In summer there are light brown seed heads which appear within the grass and offer the opportunity to collect seeds for future plants. Large sways of Salvia Caradona Canada drama and interest to the garden throughout the summer. A great one for bees!The feathery Golden Dew brings a softness to your outside space. The light plays beautifully with the brown seed heads which mature to a shimmering gold.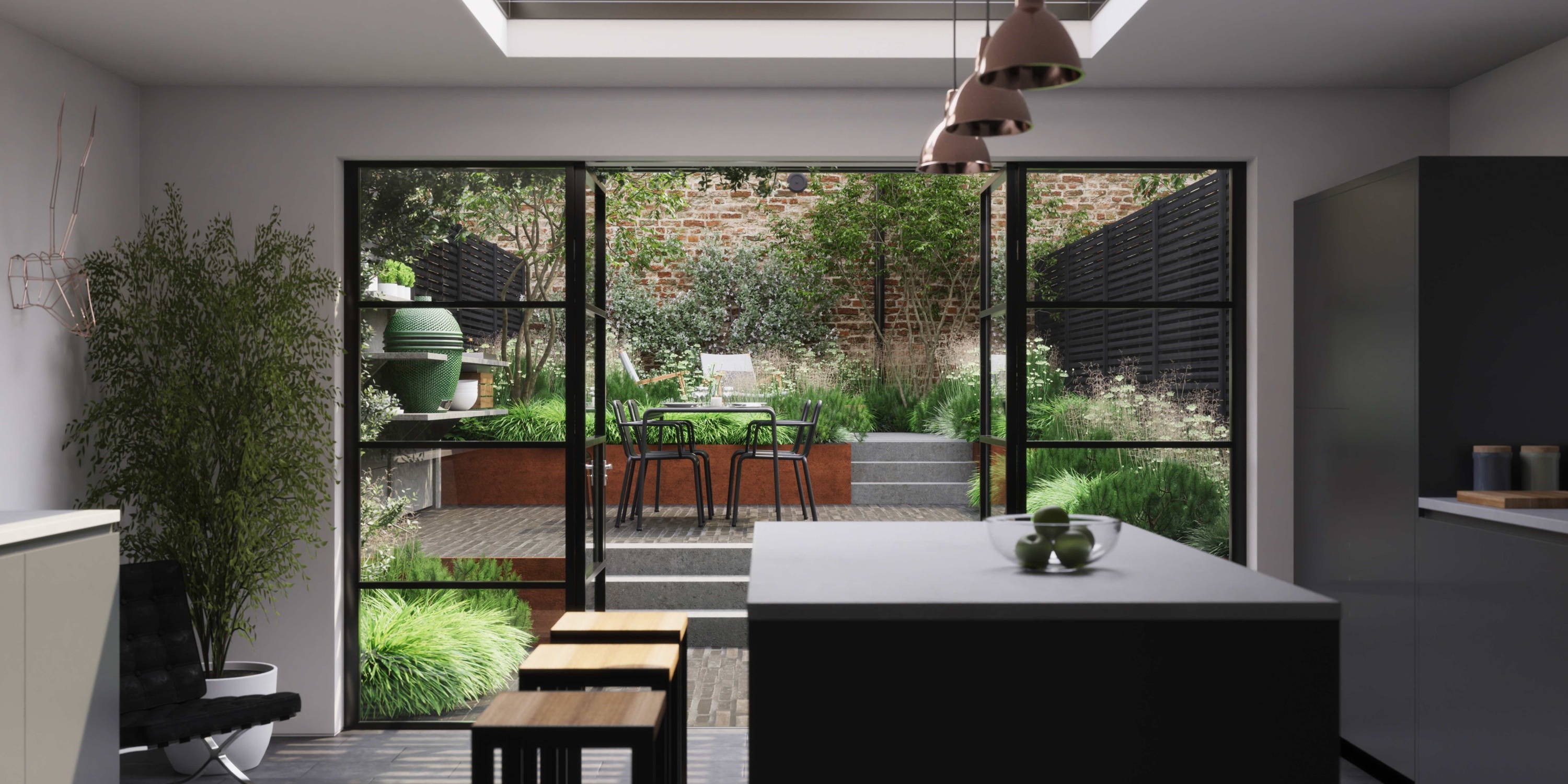 5. Rewilding is a hot topic at the moment and rightly so. Do you have any tips on how we can incorporate a little rewilding into our own gardens?
Variation is key to rewilding spaces and creating homes for a variety of insects, small mammals, birds and bees. Try not mowing the lawn, this is a really easy way to let nature do it's thing, or leave a few areas of the garden completely untouched, let the weeds grow, (If not invasive!) they are great sources of food for insects. When purchasing plants, try to add multiple different plant species into your garden, the best selection would be ones that flower at different times of the year, provide homes for wildlife and offer food for birds.
6. After the hot UK summer of 2022 and hosepipe bans are there any plants that are more tolerant of drought that you would recommend and should this be more of a consideration for our future planting schemes?
Get the basics right when planning your garden to future proof from extremes. Ensure your plant choices can tolerate the soil in your garden and improve drainage and soil structure with grit and compost. Watering correctly when planting can make all the difference to how robust your plants are. The Dwarf Mountain Pine offers evergreen colour, structure and texture. This pine is almost indestructible and doesn't require pruning. Lavender's long stems holding dark purple flowers provide colour and fragrance throughout summer. Popular with bees and butterflies, Lavender reminds the Soto team of summer holidays in Europe. The Fig tree (Ficus Carica) has large, glossy, palm like dark green leaves. Soto love a fig tree for bringing Mediterranean interest to gardens. The Soto fig tree is a Brown Turkey Fig, which is known for fruit production.
Abi recently caught up with RHS gold medal winning designer and co-founder of SOTO, Will, at the RHS Chelsea Flower Show and spoke to him about colour and how to create a curated planting scheme in our own gardens.
Watch the full video here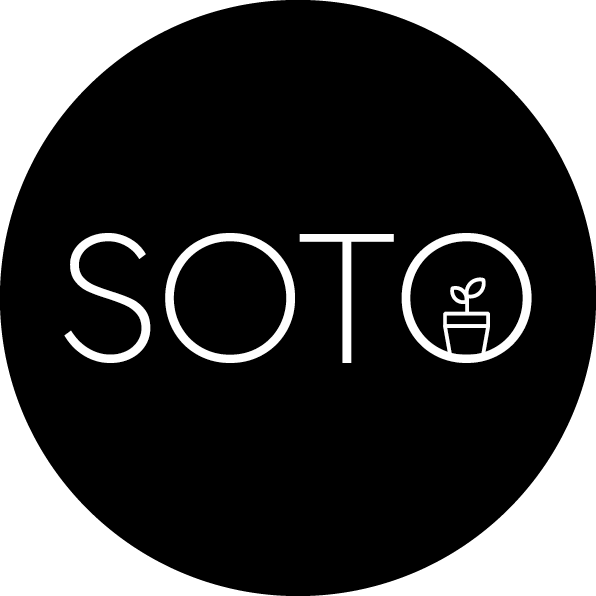 Want to know more about SOTO?
Pop along to their website for inspiration, advice and the perfect planting schemes and get 10% off when you sign up to their newsletter.
Add some interior style to your exterior for a garden space that's stylish and curated.
More to Explore - we think you'll love these.